Students and Parents Share their Experiences at the U 
"One thing I noticed that was different in this program than my typical classes was the instructors. Their style of teaching seemed a little more personable than I was used to, which I appreciated during the program since the topic wasn't what you typically get access to learn in high school. Also, the way the course was run left me feeling as if I got a sneak peek into what a college course at the University of Miami would be like, which only got me more excited to apply and hopefully soon be a student at the school. Personally, I'm interested in the world of entrepreneurship so this class was an eye-opener to what actually goes into the process of launching your own business."
Alexa C. | Business Academy: An Entrepreneurship Crash Course | Student | California | 2022 
"Nate had a very positive experience in the Sport Administration program. His professors were dynamic. The field trips to the area stadiums and arenas were priceless. The courses were intensive, and he worked hard because the subject matter was so engaging. Most of all he learned to manage his time, do his own laundry, figure out how to get to new places while forging relationships with students from all over the world. After three weeks at Miami, he proved that he was ready for college next year."
Lesley A. (Nathaniel A.) | Sport Administration: The Business of Sport | Parent | New Jersey | 2022
"This program taught me that in college you will meet all sorts of people from all different backgrounds. It taught me to take advantage of all the resources given to you and that dorms are one of the best places to socialize. It also taught me that I am well prepared for college. As a rising senior, I was worried leaving home and my family would be difficult, but the Summer Scholars Program showed me that college life is full of opportunities and fun. The three weeks really flew by, and I truly made lifelong friends."
Emma V. | Cancer Biology: Treatment, Management, and Prevention | Student | Ohio | 2022
"The entire experience has grown my son in ways that are evident to me now that he is back home. It pushed him out of his comfort zone and gave him opportunity to work with and socialize with students who are from various backgrounds." 
Brandi H. (Kokayi H. , Vista Recipient) | Law: Litigation and the Legal Profession | Parent | Illinois | 2022
"This program truly made me excited to begin my college experience. I don't think I could have asked for a better 3 weeks whether it's interacting with new people or experiencing new things. I had so much fun, and I cannot wait to begin my actual college journey hopefully at UM. I truly fell in love with the school."
Ariella S. | Sports Medicine: Athletic Performance and Injury Management | Student | New York | 2022
"The program gave my son a great idea of what studying architecture would be like, complete with late nights working in the studio to meet deadlines. I was very happy with the amount of material covered and the whole experience. Professors were great!"
Cristina S. (Marco S.) Explorations in Architecture: Urban & Landscape Design | Parent | Florida  2022
"Going into the program I was extremely nervous, but I met new friends that I think will be around forever. My CA was my best friend there and spent so much time with us. The entire program was so welcoming! We got to experience the college life and get a view on how lectures, labs etc. and would go. I think if the program has something you'd enjoy go for it, the experience is great!"
Emma P. | Tropical Marine Biology | Student | Indiana | 2022
"It was an amazing experience! I was truly able to see what college life is like even though we had to go remote. I have met lifelong friends and for that I am forever thankful."
Polina L. | Neuroscience & Public Health | Student | New Jersey | 2020 Remote Program
"The Summer Scholars Program gave me the opportunity to see first hand what college life is like at UM. I learned how to manage my time, develop good relationships with teachers, take any opportunity that came my way, and so much more. It gave me a look into what my future would look like in the marine biology field during and after college. Because of the program, I fell in love with what the University of Miami has to offer."
Julia B. | Tropical Marine Biology with Shark Ecology & Conservation | Student | Illinois | 2020 Remote Program  
"This program showed me not only the work expectations of college, but also the comradery of fellow college students and the expertise of the professors. I not only learned a lot about the class material, but also learned about how to apply the material to my life, a hallmark of college life. I truly feel as though this program changed my perception of college and I now feel ready to go and experience it!"
Jay K. | Infectious Diseases & Public Health| Student | Florida | 2020 Remote Program
"The University of Miami Summer Scholars Program lived up to its reputation and provided an incredible experience for my rising senior to understand college life and to have a foundational understanding of a career in architecture. I strongly endorse this program and will recommend it to others."
Adam G. | Explorations in Architecture | Parent | New Jersey | 2020 Remote Program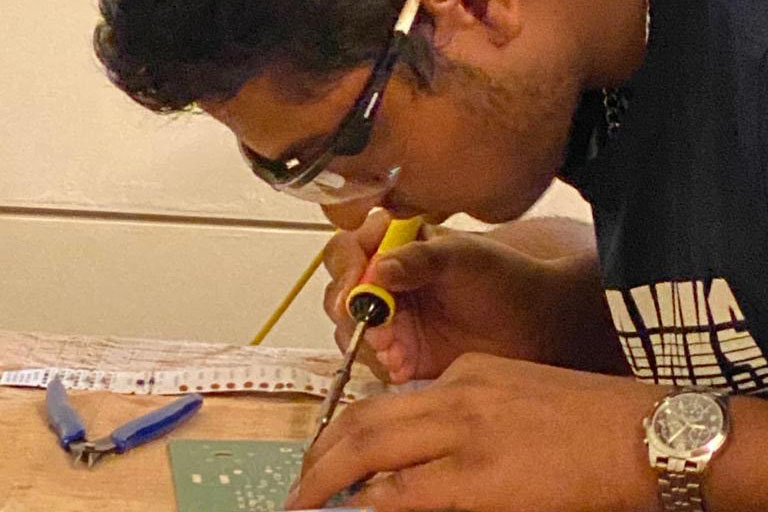 "The UMiami Summer Scholars Program gave me valuable exposure and insight into different fields of engineering. This will help me make an informed decision on my future undergrad major. I especially enjoyed the experiential aspects of the program - building the radio and the alarm clock. Also, I'm excited about getting six credits for college."
Dhruv N. | Biomedical, Electrical & Computer Engineering | Student | India | 2020 Remote Program
 "The architecture Summer Scholars Program was truly a special experience for my son that I believe enriched his life! The professors were amazing and each individually had so much joy and passion teaching the students! I am so grateful he was able to learn so much at a world class university. Thank you!"
Lara G. H. | Explorations in Architecture | Parent | Maryland | 2020 Remote Program 
"I had always thought of college as an extension of high school, however, I discovered that it is a whole new life experience. In addition to this I have found out that the people who you are surrounded with in college eventually become your family and not just acquaintances."
Pruthvi S. | Neuroscience & Public Health | Student | Florida | 2020 Remote Program
"I wanted to do this program to get a feel for college and the U. I learned a lot about the culture, academics, and other students; and what college will be like in the future. I also learned a ton of information about business and entrepreneurship and how to start a company."
Kathryn H. | Business & Entrepreneurship Academy | Student | Florida | 2020 Remote Program
"Thank you so much for this program. The Summer Scholars Program truly prepared my daughter for how rigorous college courses will be and how much studying and class participation will be involved. She felt that the level of interaction and the group projects among her classmates as well as the knowledge and wonderful personalities of her professors made it such an incredible experience. All of her peers contributed and worked hard on projects. They also had time for fun and had their own 'Smores campfires! This program was a blessing and truly prepared her for what lies ahead. Thank you so much for giving her the opportunity. I am truly grateful."
Jodi D. | Neuroscience & Public Health | Parent | New Jersey | 2020 Remote Program
"We are very pleased that we stuck with the program [when the remote platform was announced as a result of the Covid-19 pandemic]. Our daughter was exposed to a new field and felt immersed. It was a valuable experience during a difficult time for all the world."
Gladys G. N. | Explorations in Architecture | Parent | Florida | 2020 Remote Program
"This program has opened me to the realm of immunology by taking public health and microbiology. Hoping to pursue a career in medicine, I have gained key insight about the field through this program by being introduced to how scientific research is used to educate the public on health, while also being able to view how scientific research is conducted in a laboratory setting. Not only was I able to experience a college environment with my courses and the extracurricular activities, but I was also able to interact with like-minded individuals and establish strong connections with my professors. Through the activities, I was able to gain knowledge about the college admissions process and what universities look for in a student, which will be greatly beneficial for my college applications and my future career path. Overall, the University of Miami Summer Scholars Program has been a wonderful and unforgettable learning opportunity."
Sanvi L. | Infectious Diseases & Public Health | Student | Arizona | 2020 Remote Program
"I feel the program truly solidified what I want to do in college. From doing extracurricular activities in school that relate to my intended major, I wanted to learn more academically about engineering. So this program not only allowed me to learn more about the subject I am passionate about studying in college, but also gave me college credit along the way."
Daniel D. | Biomedical, Electrical & Computer Engineering | Student | New Jersey | 2020 Remote Program
"The Summer Scholars Program helped me understand more about the University of Miami and what I want to study and major in as an undergraduate. In addition, it was exciting to experience the university's community."
Emma K. | Forensic Investigation, Crime Scene and Intelligence Analysis | Student | North Carolina | 2020 Remote Program
"It really was a great way to meet new people and make new Friends from around the world! We are all planning to hangout soon once Covid ends! I learned so much too that will be beneficial for me in college and in the years to come."
Jake F. | Business, Leadership and Money | Student | Kentucky | 2020 Remote Program
"COVID-19 made the world adjust - UM did an amazing job holding the Summer Scholars Program for the students. The remote program experience was better than we had anticipated. The SSP team did an amazing job in such a short period of time organizing and getting students involved with remote learning from all over the country and world. It was impressive. It definitely gave students a "taste" of what college courses would be like and how UM, as a school/community pulled together even during a pandemic to continue to educate students. We were so glad the program was not canceled. My daughter definitely walked away with a wealth of knowledge from the two courses she took (Fundamentals of Business and Money). She was surprised how practical and real to life it was – and that she can apply these concepts to everyday living. She wants to start her own little investment now and see how she does with her own portfolio."
Amy K. | Business, Leadership and Money | Parent | Pennsylvania | 2020 Remote Program 
"By having real experience and communication with university professors, I understood the atmosphere and the way professors teach a class. I got a glimpse of how a university class setting would be, once I get into a university. I also learned the importance of student-professor communication. Additionally, attending the activities outside of class I learned more about the university, such as fun facts, the admission process, and UM students' life experiences."
Oleysa K. | Business, Leadership & Monday | Student | Florida | 2020 Remote Program 
"My daughter fell in love with the U. I know she really enjoyed her entrepreneurship program and was proud to be "Founder and CEO" of the business she helped to create with her team."
Tara Q. | Business & Entrepreneurship Academy | Parent | New Jersey | 2020 Remote Program
"I have always known that college is a completely different experience than high school. This course helped me realize that in order to be successful, you have to be willing to work hard and dedicate your time. I am really glad I was able to participate in the Summer Scholars Program, not only because I got to meet amazing people, but also because I learned so many interesting concepts about Business and Entrepreneurship."
Gabriela Q. | Business & Entrepreneurship Academy | Student | Mississippi | 2020 Remote Program
"My son was very engaged in the remote program. He greatly admired his professors and recognized their passion and realized there was so much more to learn, and that one could spend their entire lifetime going deeper and deeper into specific fields of study. He said his UM professors explained the material much better going much deeper than any teacher had ever done in the past in his school years. He realized there was no class at the same level that could have been offered in high school. Of course, he wished very much the program was on campus; however, we understood the circumstances and a remote program was the wise thing to do and worth it."
Liliana D. | Tropical Marine Biology with Shark Ecology & Conservation | Parent | Florida | 2020 Remote Program
"The Summer Scholars Program completely changed the way I view school. It showed me a preview of college and helped me realize it won't feel anything like high school, because I will always be working on something I love. This program was very beneficial for my future because it helped me understand the career path I want to pursue, gave me additional remote education experience, and taught me more about the sports world. During this program I learned a lot about myself and the career path I wish to follow."
Logan A. | Sport Administration | Student | New Jersey | 2020 Remote Program  
"The Summer Scholars Program gave me sense of what studying public health and infectious diseases means. I also got a sense of how lectures are conducted and the way that professors teach. During classes, I learned many concepts that can be applied to real life and also in the lab. Some of the most important lessons were about how to evaluate sources of information and comprehend them."
Matthew B. | Infectious Diseases & Public Health | Student | Connecticut | 2020 Remote Program
"Summer Scholars was a great experience. My son gained knowledge of new concepts and was able to learn new skills while on the very computer he was using for remote learning. Some of the new skills included Excel, spreadsheets, and note taking. He was also able to meet new students from all over the world while in their homes, countries and time zones - all in one place. We were humbled how students [in distant time zones] sacrificed sleep and more to receive the opportunity of an education through UM's Summer Scholars remote learning. His two professors were engaging, motivating and thought provoking. We are so happy he was part of the program this summer."
Lily R. | Business, Leadership and Money | Parent | FLorida | 2020 Remote Program
"This program changed my perception of college because I had thought that it would be difficult to meet new people. However, I made friends on the first day! I think these friends will continue to be my friends throughout the years I am in college, and I am excited to meet them soon once we are all available to meet in person!"
Ariana D. | Neuroscience & Public Health | Student | New Jersey | 2020 Remote Program
"Being accepted into the Summer Scholars Program was a dream for my daughter and the experience solidified her love for marine biology. She was very fond of her classes and really worked hard while enjoying them at the same time. On her daily breaks she would constantly talk about her lectures, labs, fellow classmates and anecdotes the professors shared. She studied with her classmates who were thousands of miles away, yet it felt like they were all in a dorm room figuring out the homework together. The mentors did an excellent job giving the students a college experience remotely.  The evening activities and information sessions with representatives from different departments and the information that was gained about admissions applications, standardized testing, and course requirements was priceless. Every day she would be excited about something else that she learned about the university. While the classes and condensed schedule were challenging, the program gave students support in any area that was needed and it felt very personal and genuine. In such a short time frame my daughter had a life changing experience and made great friends."
Renee B. | Tropical Marine Biology with Shark Ecology & Conservation | Parent | Illinois | 2020 Remote Program 
"I feel like this program allowed me to grasp what it was like to apply architectural concepts and ideas as well as learn how architects work every day. It helped me realize that architecture is truly what I want to do in the future and it allowed me to get ahead by taking two college courses early. The program helped with my work ethic and the pace I need to be at to pursue my future career."
Nelson F. | Explorations in Architecture | Student | Florida | 2020 Remote Program   
"This valuable college experience really taught me lessons that I could use in the real world and gave insight on how to start a new business and to think outside the box. I gained real life experience that will help me succeed in the future. I would defiantly recommend this course to others."
Joshua F. | Business & Entrepreneurship Academy | Student | Florida | 2020 Remote Program
"The Summer Scholars Program afforded me the opportunity to get an introduction to college courses and allowed me to learn more about the major I intend to study. The faculty did an excellent job creating college curricula that took into account the intensity of a college course while also understanding that hands-on projects may be more challenging when conducted remotely. The program has given me an insight as to what college life is from a learning standpoint. I feel that I am better prepared to handle intense college courses and am very glad to enter college with six course credits."
Mathew G. | Explorations in Architecture | Student | New Jersey | 2020 Remote Program  
---
"I could not be happier that I participated in the Summer Scholars Program. I felt it truly reminded me how important my future is and set me up for the college experience. It really improved my overall work ethic and time management. I also truly got to immerse myself in the UM campus and fell in love with the school even more, which in turn reminded me how hard I have to work in the future. I strongly recommend this program to my friends and future college students."
Yasmine G. | Business, Ethics & Leadership | Student | Florida | 2019
"Taking college classes with UM professors and staying on campus was a great experience to gain an understanding of what college life would be like."
Alexey D. | Global Business and International Relations | Student | Russia | 2019
"Summer Scholars gave me a real college experience. I learned what is to like to live away from my parents in a dorm and to be responsible for completing my own work. I learned that I am excited for college."
Zachary R. | Law | Student | North Carolina | 2019
"College and deciding the future is not as scary as I thought it would be. Summer Scholars assisted me to figure out the next steps. I know more about the college application process and majors I would like to further explore. I feel a little less lost and that's the greatest gift the program could have given me."
Hannah R. | Biomedical, Electrical & Computer Engineering | Student | Florida | 2019
"This program has been such an amazing opportunity for me, both years that I have attended. Without UM my life wouldn't be the way it is now and I would hate that. Marine Biology at UM has always been my dream and getting to live it early has been a blessing."
Isabella A. | Marine Conservation | Student | Florida | 2019
"The Summer Scholars Program completely benefited my outlook on college and life in general. The classes prepared me for college and the dorms were an amazing experience. The staff continuously impressed me and the food did too!"
David K. | Tropical Marine Biology | Student | Pennsylvania | 2019
"I learned what it is going to be like to live on your own, doing laundry, managing time, getting your own meals and meeting new friends. I now know what to expect on my first day of college. I learned time management and how to be more independent."
Lauren M. | Digital Media Production | Student | Florida | 2019
"Living in dorms with other kids around me has been a great experience. I have discovered a lot -- not only about academics but about myself and what I plan to do in my future. I feel a lot more prepared to take on college life, and I feel confident in the skills that have been embedded in me here at the University of Miami Summer Scholars Program."
Eliana D. | Marine Conservation | Student | New York | 2019
"I was afraid of college, but now I know it's fun and a great experience."
Miles K. | Music Therapy and the Brain | Student | Florida | 2019
"This program really taught me how to be independent and self-sufficient. I had to work on time management skills, which was helpful. I made amazing friends within my program and in other programs. I learned more about what courses and academic fields of study I am interested in. I loved the University of Miami. It was a beautiful campus and Summer Scholars was an amazing experience."
Jessica N. | Music Therapy and the Brain | Student | New Jersey | 2019
"I had a very inaccurate idea of college life, but Summer Scholars fixed this. I am assured now that this is what I want to do for my future and have a good idea of what I want in a college."
Alexander L. | Tropical Marine Biology | Student | Pennsylvania | 2019
"I feel more confident in my ability to do well in college. I now know that I can manage time and study effectively, and talk to professors and TAs with confidence."
Sarah E. | Marine Conservation | Student | New Jersey | 2019
"Summer Scholars gave me an authentic taste of college. The workload, time management and learning how to adjust to my roommate prepared me for college next year."
Jaylen S. | Sport Administration | Student | Florida | 2019
"At Summer Scholars I learned self-accountability and how to balance life and school."
Nicholas H. | Tropical Marine Biology | Student | Florida | 2019
"I think the program gave me a good idea of what college life is like. I love all of the people I met here. I have made lifelong friends."
Sydney B. | Sports Medicine | Student | Texas | 2019
"This program has changed my life. I feel better prepared for college and the application process. I have learned so much from this program beyond classes, more than I ever thought I could. This program has been so valuable to me and I am so glad I took on this challenging opportunity."
Katherine W. | Marine Conservation | Student | Florida | 2019
"Summer Scholars has made my decision more clear about what I want to do in college and where I want to apply. I had such a great time here with the staff and students. This program really helped me become a stronger student and taught me a lot about the business world."
Sarah Z. | Money & Marketing | Student | New York | 2019
---
"The Tropical Marine Biology academic track was incredible! I can truly say I made lifelong friends in the Summer Scholars Program. It really solidified my plans for college and the major I want to pursue. It is a wonderful program!"
Nicolle H. | Tropical Marine Biology | Student |Arkansas | 2018
"My daughter enjoyed every aspect of the Summer Scholars Program. She realized she likes neuroscience as a possible career, and she learned how to navigate life as a college student. For her, the best and most valuable experience was living on campus. She gained a confidence that she didn't know she had, made new friends, and has a new sense of maturity about her."
Tara P. | Parent | New York | 2018
SSP2017JJM from Trevor Green on Vimeo.
"This was a great program that really shaped the way I will apply to colleges and where I will consider going next year. The professors I met were incredible and very willing to help me succeed. I made some friendships that I know will last for many years to come."
John O. | Business, Ethics & Leadership | Student | Florida |2017
"This program was the best three weeks of my life! I met amazing students from around the world and discovered that we share the same interests. I loved earning six credits in the major I want to pursue, and I gained valuable time management skills that I use every day. I had an amazing time, and I know others will too."
Michael D. | Student |Illinois | 2017
"My son loved the program! I witnessed him mature and get a great feel of what college life at UM - or elsewhere - will be like. The program far exceeded my expectations and my son's expectations, and I have never seen him so focused and excited about school!"
Daniel M. | Parent | Florida | 2017
"The Summer Scholars Program opened my eyes to what college was all about. Not only did we participate in rigorous courses, we had the chance to meet people from all over the world and live on our own. Although the first day I was nervous, Summer Scholars helped me branch out and discover my interests."
Julia S. | Student | Florida | 2017
UM Summer Scholars 2016 from Trevor Green on Vimeo.
"Each course I took was highly informative, and they gave me insight into potential majors, as well as careers I could pursue after college. Aside from that, SSP taught me how to manage my time. Overall, I had an amazing experience, and I am very grateful to have attended this program."
Olasina A. | Student | Georgia | 2016
"I was very impressed as a parent of a scholar who attended the summer program. The program offered a very detailed experience to prepare my daughter for her upcoming year as a college student, emotionally and academically. She expressed excitement going into the program, formed relationships with staff, professors, and peers and felt confident leaving!"
Lucretia B. | Parent | Pennsylvania | 2016
"Summer Scholars was life changing for me. It was the best three weeks of my life; meeting new people, living in the dorms, taking college level courses, getting college credit and creating life lasting bonds."
Jake L. | Student | New York | 2016
"I feel I am better prepared for my freshman year of college as a result of my Summer Scholars experience. My interest in my discipline of study was confirmed. I now have a much better idea of what I want to study and what to expect when looking for, and attending a college."
Peter A. | Student | New York | 2015
"We are glad we were able to give our daughter an opportunity to experience college life and prepare for the real thing. Our daughter has learned life lessons that support what we have been instilling and teaching her. She has matured and learned time management skills that will be significantly important in her senior year of high school and beyond."
Kelly R. | Parent | South Carolina | 2015
"This was the best summer program I have ever attended. It gave me an insight into college life by challenging me academically and socially. I learned how to manage my free time wisely and how to challenge myself academically. This program definitely prepared me for college and gave me a better perspective of college life."
Michael T. | Student | Florida | 2015
"The Summer Scholars Program provided our son with a tremendous opportunity for personal growth. He left the program more confident and mature. The change in a few short seeks was amazing. Living on his own with peers taught him to become increasingly self-reliant. Instead of approaching college with trepidation, he's looking forward to it."
Scott S. | Parent | Virginia | 2014
"College has been an intimidating topic because I was always unsure of what it would truly be like. This program has made me excited to attend college."
Rachael R. | Marine Science | Student | Connecticut | 2014
"This Summer Scholars Program was absolutely amazing. I met so many new people and got to really experience what college life is like."
Anna S. | Health and Medicine - Psychiatry | Student | Michigan | 2014
"This program helped me decide what major I will choose in college, and what career I want to pursue. The activities helped me experience the correct way to balance a social life as well as an academic life."
Amanda L. | International Relations | Student | Florida | 2014
"The Summer Scholars Program was very beneficial. It reaffirmed by interest to to attend college in America, and it provided an understanding of what college can be like."
Michele M. | Engineering | Student | Italy | 2014
"This program helped me get a view of college and campus life. I also was able to meet people with similar interests and study a subject that highly interests me."
Michael E. | Marine Science | Student | New York | 2013
"I feel like the experience helped prepare me for college. I have a better understanding of what college will be like. Who I'm going to meet, how to do well in class, and what to expect at a major university. Most importantly, I know what will be expected of me as a student and a peer in terms of academics."
Kyle T. | Business and Law | Student | Georgia | 2013
"The Summer Scholars Program far exceeded our expectations. Our son had an amazing all-around experience and was particularly inspired by his professors' knowledge and passion. The program provides a priceless taste of the intellectual and social aspects of college life."
Sandra O. | Parent | New York | 2013
"Overall, this program was the best experience of my summer. I feel much more prepared for college and have a better idea of what I actually want to have a career in. I know how to manage my time better also."
Marissa F. | Marine Science | Student | Pennsylvania | 2013
"This program helped me to find out what dorm life would be like. I was worried about that part of college, since I'm so used to living in my own room without many other people around. However, I actually really liked living within the dorm and look forward to that in college. I was also worried about the workload in college, but after the program I know if I work hard then I can handle it just fine."
Andrew C. | Marine Science | Student | Virginia | 2013
"SSP gave me a taste of college life. I got to explore the campus and activities U of Miami has to offer."
Brian A. | Business and Law | Student | Michigan | 2013
"Best three weeks of my life!"
Brianna S. | Health and Medicine - Neuroscience | Student | Florida | 2013
"My perception of college was that it would be very hard if not impossible to balance school work and fun, but this program showed me that it is very possible to maintain your grades and have a wonderful time. The program was beneficial to my future because I now understand what is expected in a college setting and I am better prepared for it. The Summer Scholars Program was like a dress rehearsal for my actual college career and it made it easier to know what to expect. Now when I do start my freshman year of college I understand the basics of how things work and it removes some of the nerves and reservations I may have about attending school."
Eliseah J. | Marine Science | Student | Connecticut | 2013
"Going into SSP - I was really nervous. After the first couple of days, all of my fear had vanished. I do not regret taking these courses in the slightest. I am so proud that I challenged myself. It was truly an amazing experience and I feel very accomplished because of it."
Sara A. | Marine Science | Student | Louisiana | 2013
"I learned what it's really like to live in dorms on a college campus. I live in Miami, so I thought that even though I was a residential student, it would feel like I was at home: the opposite was true. Other than one visit, it felt the same way it would've felt had I gone halfway across the country."
Matthew M. | Broadcast Journalism | Student | Florida | 2013
"This program gave me a preview of what life will be like when I am on my own at college. It also opened my eyes to other cultures and areas of the world from the friends I made. I now know what to expect when I go to college."
Nicole K. | Business and Law | Student | New York | 2012
"This program gave me a preview of what life will be like when I am on my own at college. It also opened my eyes to other cultures and areas of the world from the friends I made. I now know what to expect when I go to college."
Kristina M. | Health and Medicine - Neuroscience | Student | Florida | 2012